PROFESSIONALISM
HONESTY
EXCELLENCE
Petero Plumbing Ltd specialise in the following services:
Domestic repairs, replacements, remodels
Industrial
Commercial Projects
Drainlaying
Gas Fitting
Call now on 027 576 9055
or email us.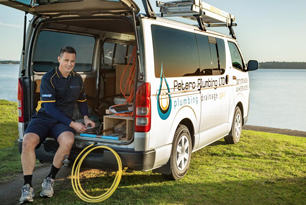 Petero Plumbing Ltd is proudly owned and operated by Tony Petero and his
wife Amanda.
Tony is a Certified Plumber/Drainlayer and Licenced Gasfitter with extensive experience in domestic plumbing maintenance and servicing. He also has over 25 years experience in new housing and large commercial projects.
It was really important to us that our business was founded on skill, honesty and integrity. That means knowing our customers get to deal with a plumber who's going to do an honest days work to the highest possible standard. Seeing our customers happy with the service our plumbers provide is extremely important to us.
I am writing to express my sincere thanks for your quick and prompt service in fixing a burst tap in my bathroom recently. Due to the urgent nature you were able to come with little notice. It was important that I could rely on a plumber to come into my home without my presence. I had complete trust in your professionalism.

The work done was excellent and I would have no hesitation in using your services again and will definitely be recommending you to my family and friends.

Kerry - Happy customer Otumoetai

Tony Petero has completed the plumbing renovations to our home and laid extensive drainage to our section.

We would highly recommend Tony - his work is of a very high standard, he is exceptionally tidy, always on time and easy to talk to.

We have appreciated his well thought out approach to our jobs and his willingness to getting the job done right.

Jules & Shane, Matua

Thanks for a great job and I will recommend Tony for his realistic pricing, consistent follow up, helpful suggestions, clean and tidy workmanship and professional plumbing skills.

I am stoked with how the bathroom has come together, thanks again.

Ann, Mount Maunganui

As we live in Australia and own a house in Otumoetai that we rent, maintenance can be a hassle.

Recently we needed to have a water filter replaced so I contacted Tony Petero Plumbing. What a great choice. Tony arranged with our tenant and property manager to complete the task in a professional and efficient manner so everyone was happy. I received the invoice via email within a few days, so easy to deal with. Tony will be undertaking any future work. Thanks again.

Bruce & Nicky, Otumoetai / Brisbane